I don't think I'll discuss the details of this day, nine years ago much, perhaps another time. I do, however, have two poems to share though and a music play list I put together. The music videos are on the right hand side, containing videos for and of military members and their family, from past wars through today's war. There are 41 videos on the list, including a few at the end that are Cadences from the military. Feel free to listen and go through them as you read my blog or do anything you want.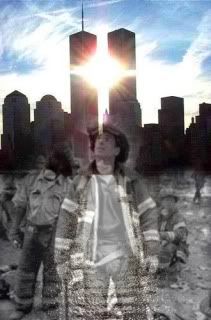 9/11/01. I was sitting in English class that morning, in a town outside Buffalo, when they turned on the classroom television. It was horrifying, devastating, the day had barely started before it was stopped. No longer were we working on school materials, all eyes were on the television and all was quiet. I was in tenth grade at the time, and it changed everything for me. Sure I might have looked into joining the military anyway but events from then on made it certain. At the time my husband, Jacob, was still in military training, and it drastically altered his military career in ways he could never have foreseen.
I decided that it would be best to put up my poem and then a separate blog for my friends poem.
Here it goes:
Blood and tears I would spill
As graveyards, comrades fill.
What they did was not for naught.
They paid for the lessons, we
Should be taught.
When battles are fought,
And wars are won.
I find myself distraught,
If I had not been broken.
I would have stood by their side,
Protected their back.
They might not have died,
I would have brought them
Home from Iraq.
I have to remind myself:
To sit in pity is shameful,
To honor their memory is
Respectful.